Here I promised some experiments in software development.
And I've started one recently. A beta version of my first Android application was released early today. It is my first 'production' written on Java application too.
The application is simply called GRE Vocabulary. Its goal is to help to learn words required for verbal section of GRE exam which tests knowledge of words and their meaning. Unlike other similar applications it is free and going to contain comprehensive list of words – not just 50-100 'preview' words. Current release has only letter 'A' words but it includes 475 (!) words and definitions!
There is no doubts that user interface is not perfect but it is only beta. I have a good list of future features. Hopefully user's feedback will help to prioritize it.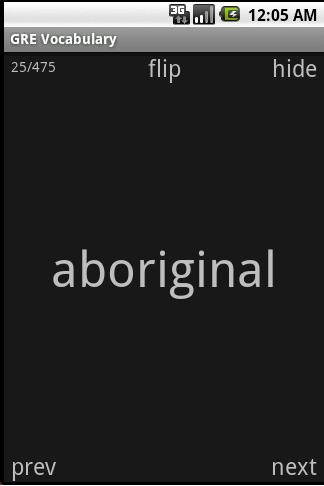 Feel free to comment on this post or leave your suggestions at Android Market.
Update 6/30: about 350 downloads after 2 days on the market. Added 184 letter 'B' words. Working on a feature to mark words.