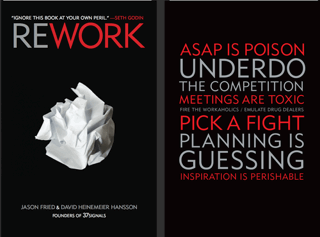 Honestly I was really skeptic while seeing many excited reviews about "Rework" here an there. It all looked like another wave of hype around Ruby on Rails creators. Until a good friend of mine presented me this book.
Although it was collecting dust on my desk for a while, I am finally among those who read this book. 🙂 A-a-and going to join the the group of amazed and ignited readers too.
First of all it is very easy to read this book. Once you have started, you will be turning one page after another without any thoughts to postpone reading. Part of the reason is that the book consists of really small chapters (2-5 pages) and it is always exciting what next chapter brings.
Second, the book is very well supported by examples of real people and companies. Many examples fit great into the book and in certain cases may be even more inspiring than the main story.
Also it is worth pointing out that "Rework" is not 100% unique content. Some things are already known well enough and even becoming mainstream approaches for doing business rather than being sort of unusual (although that does mean that all big companies follow them yet).
However the uniqueness of "Rework" is that all those valuable recommendations, stories and examples gathered in one book and work perfectly not only for inspiration but as a reference book too.
So in my opinion it's a kind of 'must read' book basically for anyone.
In the end a few quotes from the book (in addition to the provocative ones on the back cover).
"A business without a path to profit isn't a business, it's a hobby."
"Teach and you'll form a bond you just don't get from traditional marketing tactics."
"If you want something done, ask the busiest person you know."
"Easy is a word that's used to describe other people's jobs."