Two month after Meetup with Tom Albers I was able to attend MongoATL Conference. The event was very well organized and really useful and igniting for MongoDB newbies (like myself at that time).
Of course the first thing I did after the conference was installing MongoDB and playing with its native PHP extension. Although I wanted to document that experience Vikram Vaswani had already come up with a great article on Getting Started with MongoDB and PHP.
In addition just a few things to highlight:
MongoDB is really easy to start with and just works out of the box without any issues. So I was running my first query just a few seconds after it was downloaded.
Despite the above mongodb.org offers browser shell to try MongoDB out online. So there is a way to play with it even before any download\installation is needed!
If you are using Windows it is worth checking out a GUI tool MongoVUE which can be a great addition to the command line. Especially it comes really handy if one want to import some test data from MySQL or MS SQL.
The Little MongoDB Book is a free ebook by Karl Seguin which should help get started with MongoDB as well as answer common questions.
At the end couple pictures from the event via my cell phone. 🙂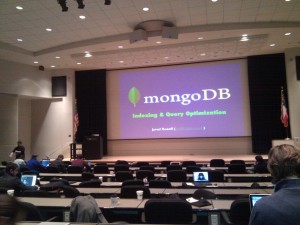 This is before Indexing and Query Optimization talk. It is still a break – that is why it looks empty.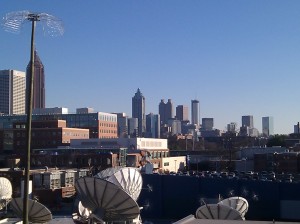 This is bonus picture from GA Tech parking lot where the conference was held.